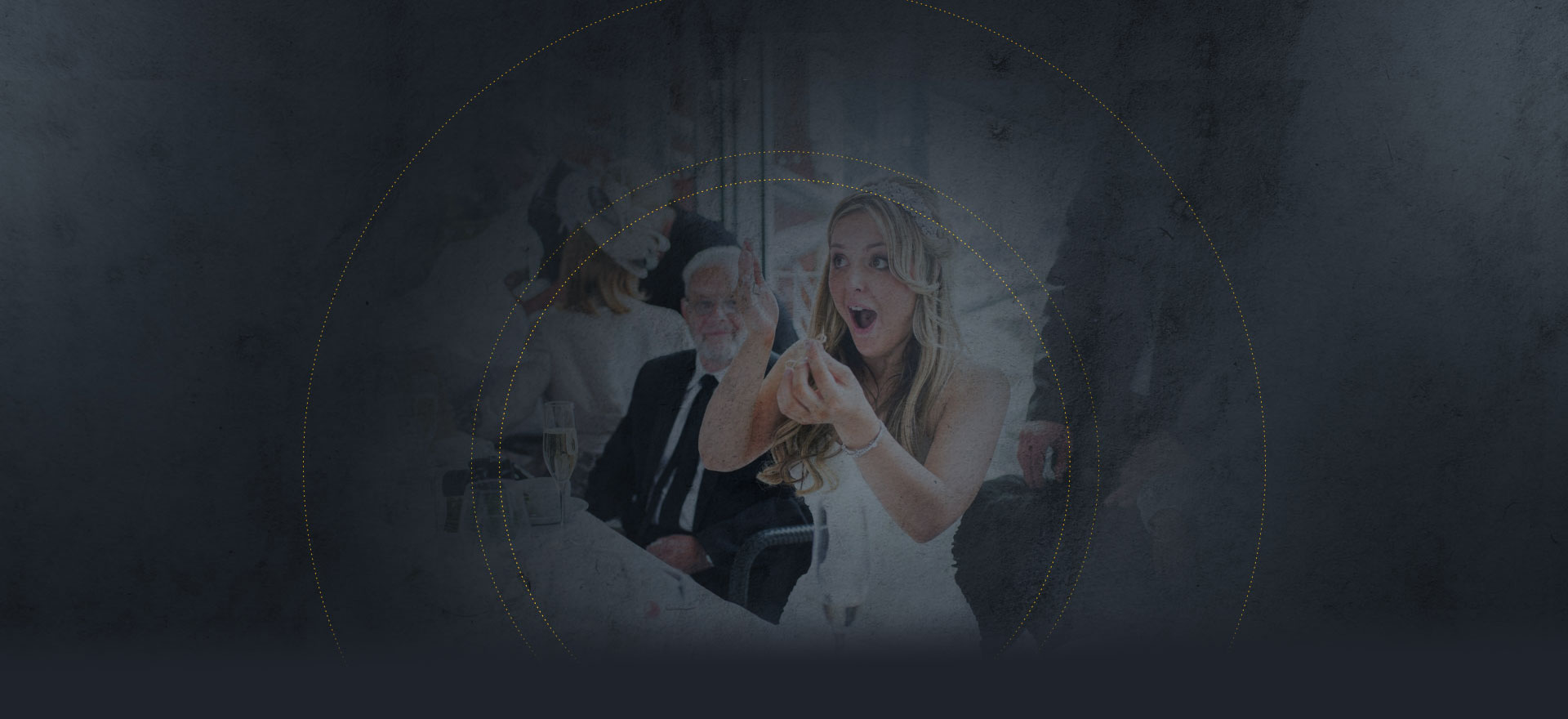 Flash - Comedy & Magic. Magician Newcastle Upon Tyne, North East England
---

---
Wedding Entertainment Options
I

've been entertaining with close up magic at Weddings for almost 20 years and I know how great an ice breaker it can be for your guests that maybe haven't met before to get them talking at the drinks reception while you're off being photographed, and then also in-between the courses of the wedding breakfast.
I always try to give the guests something to talk about after I've performed for them so there's no awkward silences or predictable small talk, which makes a big difference in making your wedding day that little bit extra special and memorable for your guests. I also have a special wedding ring magic trick I perform for the Bride and groom which is my most talked about trick, and is also my favourite close up magic trick to perform. You can see past customers talking about in the testimonials on my website and Facebook page. Distance is no barrier to booking me. I have 2 wedding entertainment options, and my prices for bookings within the North east of England are:
---
This is where I mix and mingle with your guests and show them magic while standing or sitting in their groups. I can get round approximately 50 people per hour, so for most weddings I recommend booking 2hrs.
45min Stage Magic Show

The show is designed to be good fun with lots of comedy elements alongside strong magic. It's a really fun way to begin your evening reception before the disco starts and it also means that any of your evening only guests will still get to see some magic. I'm happy to perform this show at any point in your wedding day though.
---
---
5 great reasons to hire a close up magician for your Wedding.
1
Avoid those awkward silences.
The problem with weddings is that you have a lot of people who don't know each other coming together for the first time. A lot of people in this situation can be very shy and once the obvious questions are asked they run out of things to say. Having a close up magician can solve this problem almost immediately. A good magician can go from group to group performing a mini cabaret show. It raises the whole atmosphere in the room as people are clapping and cheering. Watching a magician performing nearby builds anticipation and gets everyone talking about what they are about to see. Magic also acts as a conversation starter or ice breaker. Once the magician leaves everyone instantly has something they can talk about, even if it is only to try and work out how it was done!
2
Get photos that you will remember forever
If you are getting married you want to have the best photos ever. That is after all why you have spent a small fortune on a professional wedding photographer. A lot of couples ask the wedding photographer to walk around during the wedding breakfast and take pictures of guests having fun and smiling. It's a great idea, the only problem is when you point a camera at most people they freeze or do a forced smile. That is why wedding photographers love us - they know the best pictures are captured when people look relaxed and natural. A good photographer will follow us around and take pictures of your guests as we perform. That's the best way to get pictures of people who are smiling, obviously happy and enjoying themselves. You will literally have hundreds of pictures to choose from of your guests reacting in a variety of different ways. I'm not saying that if you don't book a magician you won't get any decent pictures. However having a close up magician at your wedding certainly helps!
3
Keep people entertained even during the lulls
There are several moments during a wedding that there is little going on. If you are not careful your guests can get bored which really has an impact on the day as a whole. The two moments that spring instantly to mind are during the photos after the ceremony and after the speeches, before the evening guests arrive. The problem with the photos is that it is only immediate family that are involved. Anyone else is standing around waiting for the wedding breakfast and they're probably hungry. Having a magician during this lull period helps immensely. You can have a close up magician mixing and mingling between your guests keeping them entertained and keeping the energy levels up while waiting to go into the wedding breakfast. Likewise after the speeches there is normally an hour or two before evening guests arrive. Normally there is ​nothing for the guests to do other than wait for the evening reception to start. Again having a magician during this period will keep everyone entertained and energised until the evening reception starts. In both of these situations close up magic acts as not only a form of entertainment but also has a purpose that really has a positive impact on the running of the wedding celebrations.
Weddings can be very generic. A lot of weddings are the same, in fact during the summer months if you have been invited to three or four weddings it's hard to remember one from the other. Really a wedding should be memorable, it should be remembered by all the guests for all the right reasons. Having a close up magician at your wedding is different and although more people are hiring magicians than ever before it is still in the minority rather than the majority. As close up magic is a form of entertainment it is interactive and it means that people get involved and invested in the performances. Also, as the magic by its very nature is close up, a lot of the time it happens in their hands, right in front of their eyes. Imagine the look on your guests' faces when a bottle appears from fire and a borrowed finger ring is made to vanish inches in front of them. All of this is possible and more! It basically means that your wedding will be remembered for a long time to come - for all the right reasons.
5
Do you want your guests to experience the WOW factor?
I imagine the answer to this question is yes! Simply by hiring a close up magician for your wedding it will give your guests the WOW factor from the second they walk through the door. They ​will not expect to be greeted by a close up magician and in all likelihood they will have never seen close up magic before. Being able to experience something that they have previously only seen on TV is a great way to kick off any event, but especially good for a wedding. It creates a high that will remain for the rest of the day. It seems to me that magic works so perfectly well at weddings it's as if it was designed for exactly that purpose.
How long should you book me for when hiring me as a close up/table to table performer?
I get this question a lot and the short answer is if you have 100 guests you need 2 hours at an absolute minimum.
Now here's the longer version: if you have 100 guests seated 10 at each table then that means I have 10 tables to work in 120mins (2hrs), that gives me 12mins per table. In reality it ends up being more like 10mins per table because you lose time moving from table to table, trying not to get in the way of the serving staff, stopping to allow the toastmaster to make announcements etc.
People do sometimes ask to book me for less time than what is actually needed and I do understand that your schedule can be very tight, so I will work within the time you have available but sometimes that means that it is not possible for everyone to see some magic. All I need to know is, are you and your guests okay with that?